Ronny demonstrating his neurophysiology to Ali Jennings from Nature:

Jenny interviewed on the project by Matt Simon from Wired:

Vivek discussing our 2018 Current Biology paper on BBC Breakfast:



Very nice article by Ed Yong in The Atlantic: https://www.theatlantic.com/science/archive/2018/02/praying-mantises-3d-glasses/552791/.


Coverage of our 2018 Current Biology paper:
Digital Trends: The key to next-gen 3D vision for autonomous cars is … praying mantis goggles?
Gizmodo: Praying Mantises Have a Completely Different Way of Seeing in 3D
Sky: Glasses reveal how the mantis can see in 3D even when humans can't
Newsweek: PRAYING MANTIS WEARING 3-D GLASSES REVEALS 'COMPLETELY NEW FORM' OF VISION
Science: World's tiniest 3D glasses reveal how praying mantises see the world
Popular Mechanics: The Unique 3D Vision of the Praying Mantis Could Help Robots Learn to See.
The Telegraph: Future of robotics vision is a praying mantis (wearing tiny red glasses)
The Verge: Why this praying mantis is wearing tiny 3D glasses.
Live Science: What a spectacle! Praying mantises wear tiny 3D glasses for science.
Science Alert: An Entirely New Form of 3D Vision Was Just Discovered in Praying Mantises (Look at their tiny glasses!)
These Praying Mantises Wear Tiny 3-D Glasses—For Science


Article in the New York Times on mantises which mentions our work.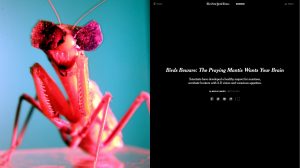 Clip from National Geographic documentary "Explorer: Eyes Wide Open" featuring our work:

Video from AP TV, which appeared in the Telegraph.



Vivek interviewed on Public Radio International, which serves over 900 stations across the USA:

News report on ITV Tyne Tees (click picture to see content on ITV website):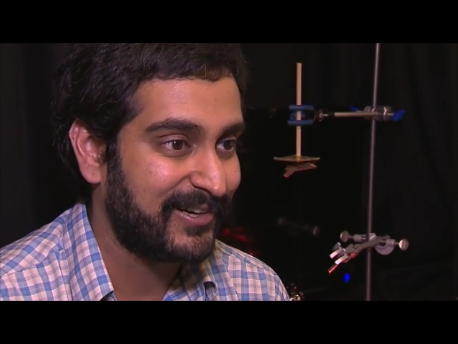 BBC Breakfast covered the project: