Email: Jenny.Read@ncl.ac.uk
Telephone: +44 191 208 7559
Postal address
Prof Jenny Read,
Institute of Neuroscience,
Henry Wellcome Building,
Newcastle University,
Framlington Place
Newcastle upon Tyne,
NE2 4HH,
UK.
Getting there
This is an interactive map, courtesy of google, e.g. you can zoom or pan around, using the +, – and arrow buttons on the left. Scroll down the page for further directions.

View my lab's location in a larger map
Locations marked with symbols
purple pillars = Medical School Main Entrance and Reception.
orange "i" = Institute of Neuroscience Reception.
yellow house = Jenny's office.
yellow car = underground car park; you need a visitor reservation to use
blue "P" = Claremont Road car park, nearest public parking.
You may also want to look at the campus map provided by the University.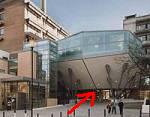 The Medical School main entrance is indicated by the red arrow on the picture to the right.
The Medical School Reception is right in front of you as you enter; you can ask them to ring me (ex 7559).
To get to the Institute of Neuroscience reception, go through the main entrance indicated by the red arrow, turn left through the double doors, and you'll see the Institute of Neuroscience logo on your left shortly.